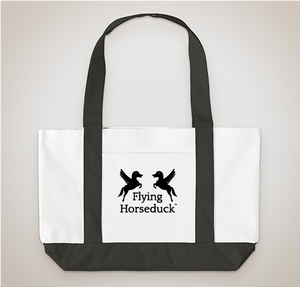 Premium Tote
Sale price Price $25.00 Regular price $25.00
Free shipping within the US!
Have you been searching for a way to carry things and also look amazing? We've got you covered with our premium tote!
Constructed from super durable 600 denier polyester with a small pocket for keeping track of those little items in your life. This medium sized bag is large enough for most board games with plenty of room left over. The black handles and bottom add a nice contrast.
4" x 19" x 12" tall  or about 10cm x 48cm x 30cm tall if you speak metric.
All of our orders are covered by our 100% satisfaction guarantee. If you aren't happy with your purchase you can return it for a full refund.
Our domestic orders ship via USPS First Class which takes 2-3 business days. We usually ship our orders either the same or next business day after they are placed, so your US order should arrive in 3-5 business days. USPS takes 5-21 business days to deliver international orders.
Design is protected and logo is a trademark of Flying Horseduck.