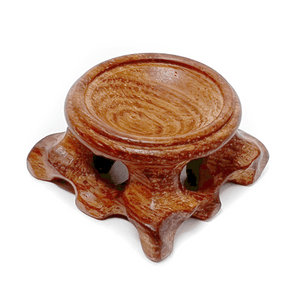 Dice Display Stand
Sale price Price $8.00 Regular price $8.00
These carved wooden stands will elevate your dice collection to new heights (literally... 😆). Crafted with meticulous attention to detail, each elegant stand is designed to showcase your dice, making it an ideal addition to your gaming table, desk, or display shelf.
Have a lot of dice to display? I offer substantial discounts for purchases of multiple stands. There is natural variation in wood, so if you order multiple stands I will assemble a group for you that has similar color tones and grain.
Constructed from premium quality hardwood, these display stands exude a natural beauty that complements any dice. The rich, warm tones of the wood create a captivating focal point that draws attention to your most prized dice. Each stand is individually crafted, ensuring a unique and distinctive piece.
Reward your dice for good rolls with a seat in a wooden throne, or perhaps send your badly behaved ones here to reflect on their misdeeds.
These are a must-have for any dice enthusiast or tabletop gamer seeking to showcase their collection in style. Let your dice shine with these exquisite wooden stands.
This product is stand(s) only, does not include any dice. Measures approximately 1.7" x 1.7" x 1" tall.