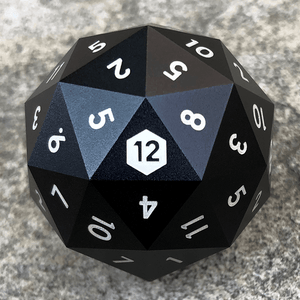 60-sided d12
Sale price Price $69.00 Regular price $69.00
Free shipping within the US!
A 60-sided die, precision milled from solid aircraft grade aluminum, hard anodized and laser marked.
Includes premium zippered case.

Approximately 1.5" (37mm) in diameter and weighing in at 0.17 lbs (77 grams).
Numbered to use as a D12: each number 1-12 appears on five faces so it works just like any other D12! 
All of our orders are covered by our 100% satisfaction guarantee. If you aren't happy with your purchase you can return it for a full refund.
Our domestic orders ship via USPS First Class which takes 2-3 business days. We ship our orders either the same or next business day after they are placed, so your US order should arrive in 3-5 business days. USPS takes 5-21 business days to deliver international orders.
Patents Pending