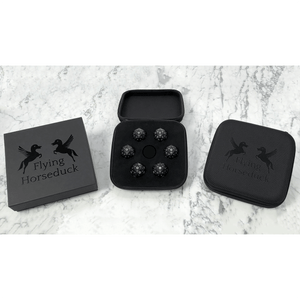 Set of Six
Sale price Price $299.00 Regular price $299.00
Free shipping within the US!
Did you order a single die and now want to upgrade to a full set of seven? Perhaps you want to give yourself and five other players a D20 and are hunting for a deal. If you are looking for six dice, look no further.
Six dice, each with sixty faces precisely milled into solid aircraft grade aluminum, hard anodized and laser marked. Over a pound of aluminum dice awesomeness.
We put each high number in a bright hexagon, so the dice are easy to tell apart at a glance. Since there are many of these per die, there is always at least one visible from any angle.
Includes a premium zippered case for a durable and luxurious home for all six of your new dice plus a spot left for a seventh die, your hero miniature, or whatever else fits! 
If you already have the D20, you can order the "Everything Except the D20" option (D12, D10, D00, D8, D6, and D4) and you'll end up with a full standard RPG dice set. If you prefer, you can mix and match any six dice of your choice. 
If you have chosen the custom mix option, please note which six dice you would like in the "Special instructions to seller" area during checkout. 
All of our orders are covered by our 100% satisfaction guarantee. If you aren't happy with your purchase you can return it for a full refund.
Our domestic orders ship via USPS First Class which takes 2-3 business days. We ship our orders either the same or next business day after they are placed, so your US order should arrive in 3-5 business days. USPS takes 5-21 business days to deliver international orders.
Patents Pending