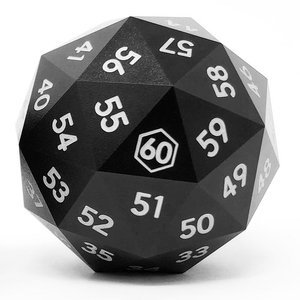 d60 Spindown
Sale price Price $69.00 Regular price $69.00
Free shipping within the US! 
A 60-sided die, precision milled from solid aircraft grade aluminum, hard anodized and laser marked. 
Includes premium zippered case. 
Approximately 1.5" (37mm) in diameter and weighing in at 0.17 lbs (77 grams).
A life counter that goes up to 60! Perfect for EDH or lifelink decks in MTG. You can also track character health in TTRPGs or keep score in your favorite game. 
All of our orders are covered by our 100% satisfaction guarantee. If you aren't happy with your purchase you can return it for a full refund. 
Patents Pending