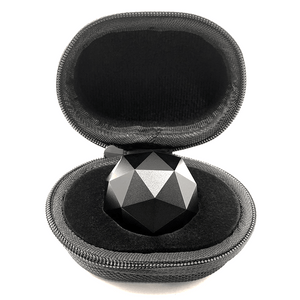 Blank 60-sided Die
Sale price Price $59.00 Regular price $59.00
Free shipping within the US!
Is a die with no numbers still a die? Maybe it is a d0? d infinity? Maybe just stick with pentakis dodecahedron? 
Whatever you choose to call it, it sure is pretty. This is what all of our dice look like before they are marked with our laser and they are beautiful. We had a few at Silicon Valley Comic Con to help us explain the manufacturing process of our dice and people kept asking if we sold them. We eventually said sure!
Perhaps you are a creative GM who wants to design a custom die (we find that a label maker works surprisingly well), or have an epic miniature of a giant geometric shrine or maybe a life-sized prop of a very powerful relic. 
Maybe you want it as a conversation piece, a paper weight, or purely for the enjoyment of holding it in your hand. Know a geometry teacher or math fan? It makes a great gift! 
Just like all of our dice it is precision milled from solid aircraft grade aluminum, type III hard anodized, and includes a zippered case.
All of our orders are covered by our 100% satisfaction guarantee. If you aren't happy with your purchase you can return it for a full refund.
Our domestic orders ship via USPS First Class with a transit time of 2-3 business days. USPS takes 5-21 business days to deliver international orders.
Design is protected and logo is a trademark of Flying Horseduck.