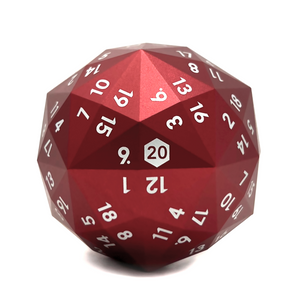 120-sided d20 | 5 colors
Sale price Price $119.00 Regular price
The ultimate d20 for enthusiasts who demand precision, quality, and heft - the 120-sided d20! I invented this exquisite 120-sided die that works as a d20. Each number from 1 to 20 is on the die 6 times, ensuring the same odds as any standard d20.

The precision shape of this die means it stops rolling in just 2 seconds, that's 1/4th the time as some d100s, which means you can get back to playing quickly without any hassle. At 53mm in diameter (over two inches) and half a pound in weight, this d20 is a true work of art that is sure to impress your gaming group.

Each die is precision-milled from a billet of 7075 aluminum, ensuring exceptional quality and durability. It is available in five anodized color finishes - black, purple, blue, green, and red - and is expertly crafted with a bead blasted matte finish that won't show fingerprints. The easy-to-read numbers are laser marked onto the dice, leaving the faces beautifully flat and preserving the weight balance of the die. Each order comes with a genuine leather or vegan suede drawstring bag for convenient storage and transportation, as well as a wooden display stand for showcasing your prized possession.

I mathematically balanced the numbering layout, so no matter how you place this unique d20, if you sum the 60 faces on the top half of the die, it will always be 630, and there will be exactly 3 of each number. It may seem simple, but solving these layouts was a tremendous undertaking that took years to accomplish. I also verified the fairness of the 120-sided d20 by testing it with a 2,000 roll Pearson's chi-squared test, which it passed. You can rest assured that this collectable d20 is just as fair as any 20-sided die.


This is a masterfully crafted 120-sided d20 that is a rare and valuable addition to any RPG gaming setup. Its precision shape ensures that it won't roll too long and its mathematically balanced numbering provides fairness and accuracy every time. I stand behind my product and offer a 100% satisfaction guarantee. If you aren't fully satisfied, you can return the dice for a full refund, and I will pay for the return shipping. Order now and become the envy of your gaming group!